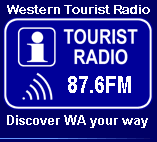 GardeningWest.com.au Western Australia Gardening
GardeningWest.com.au has been created to help West Australians and visitors to our state find gardens to visit and other great gardening ideas. Gardening West is part of the Western Tourist Radio, Visitor Information Portal, you can plan all aspects of your West Australian Holiday starting at our Home page. A visit to Kings Park & Botanic Garden is a must do part of a holiday in Western Australia. Close to Perth, you can visit the Chittering Wildflower Festival. If you are travelling to the South West then you might like to plan your visit around events like the Festival of Country Gardens, of if you are around Ravensthorpe in September, check out the Ravensthorpe Wildflower Show
With the end of the ABC's Open Garden Scheme, Western Tourist Radio has created Open Gardens WA to help passionate gardeners to promote their open gardens. If you are planning a trip to Nannup, then try and organise it to coincide with the Nannup Flower and Garden Festival held in August. Holberry House is a unique guesthouse experience. It is situated atop a wooded hill on four acres of landscaped and parkland gardens in the town centre of Nannup and will delight gardeners all year round .
A visit to Gardening Clubs of Australia Inc (WA Members) will help you find other gardeners and experience friendship through gardens, or you might be here for Garden Week, Presented by the Nursery and Garden Industry of WA.


More great gardening websites.



Organic Farming

Big Gardens

Permaculture How gardening fits into the big picture

Sustainable Gardening Australia works to protect and enhance the Australian environment by promoting the benefits of sustainable horticulture.

Herb Society of WA Inc

Raised Garden Beds are ideal for growing your own herbs, small fruit trees and vegetables as well as various other plants.

Fact Sheet, WA Native plants

Josh Byrne ABC TV presenter and inspirational supporter of sustainable practices.

Your Patch Your Patch is a truly innovative new Western Australian business providing hassle free installation and maintenance of organic vegetable gardens

Kitchen Garden Program, aims to provide a pleasurable food education for young children. The underlying belief is that by introducing this holistic approach we have a chance to positively influence children's food choices in ways that have not been tried before
Hedges English Garden
( Donnybrook) enjoy your home made Devonshire tea/coffee served on blue Spode china while you enjoy the garden at your leisure.
Sir Digsalot
My philosophy is that gardens should be a place of beauty, production and reflection, the whole garden and each element within it representing the personality and lifestyle of its owners. Whether you are starting from scratch, overgrown with good intentions, domestic, rural or commercial, I will help you identify and create a solution that satisfies your garden needs.
Peter Coppin Consulting Horticulturist & Tree Specialist, Dedicated to Promoting Sustainable Practices and Healthy Landscapes
Moss Brook Bed & Breakfast and Garden
Organic School Gardens Program - a free organic gardening program available to all Australian primary schools and anyone with an interest in organic gardening.
Tulips With a Difference Open Garden September
Merri Bee Organic Farm A sustainable lifestyle is a realistic, attractive and powerful alternative to dependant consumerism
The Diggers Club
Organic Gardener Magazine concentrates on organic gardening and food production. It explores the fundamentals of good chemical-free gardening that supports, rather than damages, nature. It also explores eco-living issues such as new organic food products, renewable energy, organic farmers markets and non-toxic household supplies.
BioDynamic Growing Magazine
Australian City Farms and Community Garden Network
Orchids of the South West
Orchids have a unique beauty and possess a powerful appeal which draws all people from amateurs to botanists to seek out, admire, study and photograph.
If you wish to list your business or community group on this website please see our Link Policy